GPLSS - GPL Season Switcher.
-------------------------------------------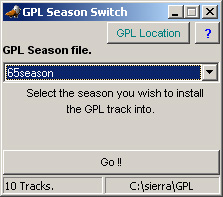 A small tool to allow you to *trick* track installers into thinking that they are installing event information into 67season.ini when in fact the event info is installed into a season file of your choosing.
To use:
Put GPLSS.exe anywhere you like.
Run it and select your GPL install location. - it will write one file upon execution named gplss.ini which holds your GPL location information.
Select the season file you wish the track event to appear in.
Click the Go !! button. - A requester appears with some info and an Ok button. Dont click Ok UNTIL you have installed the track.
Install the track.
Acknowledge requester - click on the Ok button.
Thats it !
I have included a small help file in the program accessed by clicking the '?' question mark button.
GPLSS.zip
316.15K
66 downloads
P.S
I have limited tracks to 64 per season.
Edited by looseether, Mar 17 2012 - 04:33 AM.